16th Dresden Steam Engine Festival
13th - 14th April 2024


Enjoy a short movie about our festival:
On this site we will publish all information about the festival, the corresponding special steam trains and the surrounding program, as soon as they are fix set up.

Find here:
Train time schedule

Time schedule for bus shuttle between festival ground, main station and Dresden Transport Museum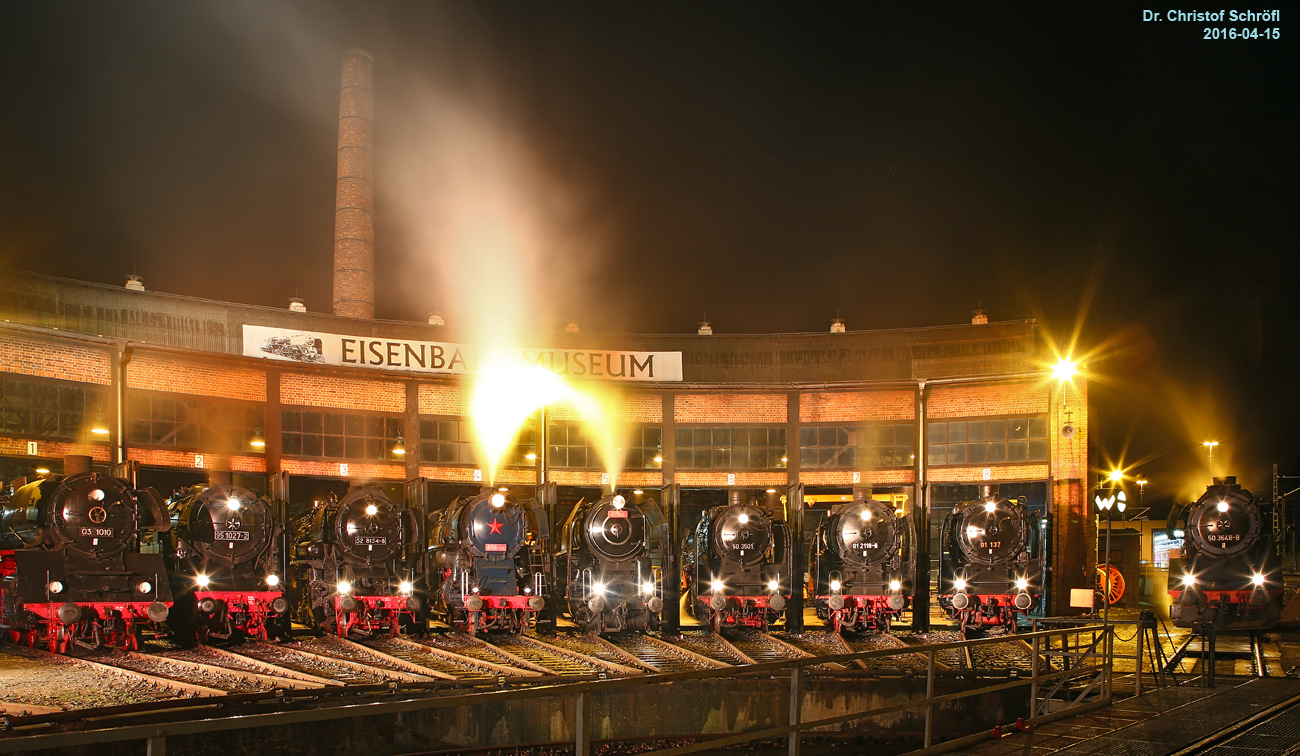 (State of planning April 2023)

General information
The Dresdner Dampfloktreffen has established its place among railway and steam galas in Saxony for many years. Vintage trains from various regions of Germany as well as from neighbouring countries intend to approach Dresden, for their travellers and rolling stock to attend this gala. Similar to previous years, we intend to have illuminated evening photo sessions (Friday and Saturday) and a live music concert "Steam & Dixie" (Saturday night). An attractive programme of half-day excursion trains will be offered. We cordially welcome you as our travelling guests, in addition to "feel" the atmosphere in our depot.
In the year 2022 the former Bw Dresden-Altstadt became 150 years old.
Again we will organize our nightly locomotive presentation for photographers around the turntable as well as the live music event "Dampf & Dixie" (Steam and Dixie music) in our roundhouse.
Opening hours and prices
The festival ground will be open on Saturday and Sunday (April 13th/14th) between 10 am. and 6 pm.
The evening events will start at 7 pm. After 6 pm. all guests are requested to leave the festival ground.
For the evening events, only the event ticket is needed. It can be purchased separately from tickets for general admission.
Tickets for admission: 18,- Euro (one-day-ticket) per person

Reduced tickets for admission, only for disabled people and 15 to 17 years old children: 12,- Euro


Nightly photo session on Friday: 25,- Euro per person

Nightly photo session on Saturday: 25,- Euro per person

Live music event "Dampf & Dixie" on Saturday: 15,- Euro per person

Special excursion trains: 49,- Euro per person and train
Planned locomotives
The guest locomotives will be published here, when they are confirmed.
Special Steam Trains
The special excursion train program will be published here, later.
All trains depart and arrive at Dresden main station. For spontaneous travellers, there are one or two coaches on each train, where tickets can be bought on the train.
Program frame around the Steam Engine Festival
The Dresden Transport Museum is partner to our festival, again. It's depot along Zwickauer Straße (roundhouse 4 and shed 5) will be opened as well as it's main building at Johanneum (right beside the Church of our Lady) in Dresden downtown. A historic bus shuttle will connect the festival ground Zwickauer Straße with Dresden main station and Johanneum.

The Steam Engine Festival is surrounded by a colorful program. Dealers offer a wide range of railway or model railway articles. Different caterers offer food and drinks. Periodically we guide you through our historic model railway section. On Friday and Saturday evening there are our special events, the nightly locomotive presentation on our turntable (both days), where the locomotives are presented in a special illumination, as well as the live music event "Dampf & Dixie" on Saturday. The events start at 7 pm. (special admission). Our cafeteria offers drinks right behind the roundhouse.
Between 10 am. and 6 pm. you can book a ride in a steam locomotive's cabin, starting on the track beside the turntable. Locomotives are presented on the turntable and you can listen to explanations about them.
Partners to the 16th Dresden Steam Engine Festival