Welcome to Dresden Railway Museum
And welcome to the new website of IG Bw Dresden Altstadt e.V. (Dresden Railway Museum).
To access the complete content of our website please click on the "Hamburger menu", the 3 horizontal lines at the right edge of our top logo.
All registered accounts were deleted. Please register again, e.g. to access our webshop.
Info: Ticket pre-sale to 16th Dresden Steam Engine Festival has started. You can access our webshop in the top menu of this website.
Please note: Delivery of special train tickets will start delayed, i.e. in 2024, because we don't have seat plans of the historic coaches by now.

Coming next
Dresden Steam Engine Festival on April 13th/14th 2024.
Special excursion trains
After 5 special excursion trains (April 12th-14th 2024) along our Steam engine festival (please visit our webshop on this site for bookings), next special excursion train will follow on April, 20th 2024:
Special train to the Czech state of Bohemia (Böhmen)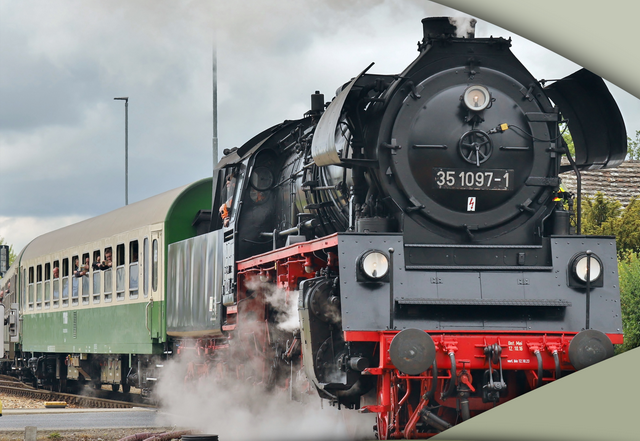 >>> Billboard <<<
Planned route: Aschersleben - Bernburg - Halle/Saale - Leipzig-Engelsdorf - Dresden main station - Ebersbach - Jedlova (Tannenberg) - Decin (Tetschen) - Usti n.L. (Aussig) and back.
Planned locomotives: Diesel locomotive type 132 (Aschersleben - Dresden) and steam locomotive 35 1097 (Dresden - Usti and back)
>>> Link to travel agency Reisebüro Maertens in Dresden for bookings <<<
Our annual program for 2023 and 2024 is located in sub-menu "Openings and prices".
For guided tours outside opening hours please send a request to kontakt(at)igbwdresdenaltstadt.de