Steam crane
| | |
| --- | --- |
| Year of manufacture | 1949 |
| Manufacturer | Krupp-Ardelt, Wilhelmshaven |
| Manufacturing number | 3150 |
| Wheel arrangement | |
| Genus | |
| Type | 056 |
| Owner | Steam engine association "Dampflok Gemeinschaft 41 096" |
| Museum's vehicle since | |
| Accessibility | always |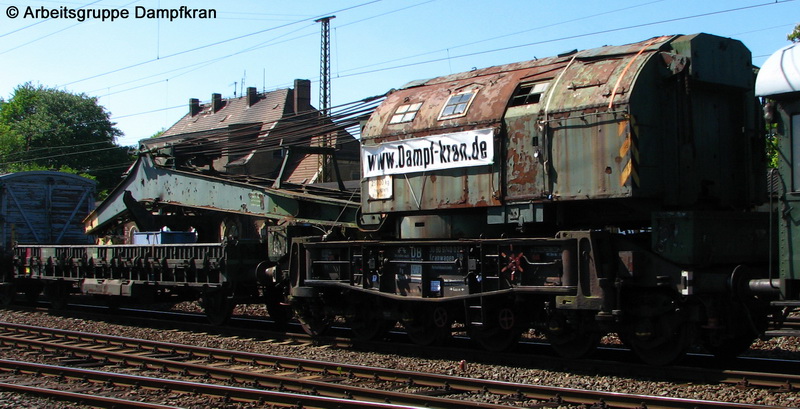 Technical Data
Length over buffers
(mm)
1 050
Complete wheelbase
(mm)
Diameter of driving wheel
(mm)
Height over rail
(mm)
Operating weight (including all supplies)
(t)
91,7
Maximum speed (own drive)
(m/min)
46
Maximum speed allowed
(km/h)
80
Power
(horse powers)
Axle load
(t)
15,3
Maximum tractive effort on starting
(Mp)
Drive
Steam
Track gauge
(mm)
1 435
Wagon number
30 80 9740 023-5
ex Essen 6650
ex Essen 734 065
Maximum lift speed
(m/min)
9,4
Maximum load
(t)
25
Working radius
(m)
13,70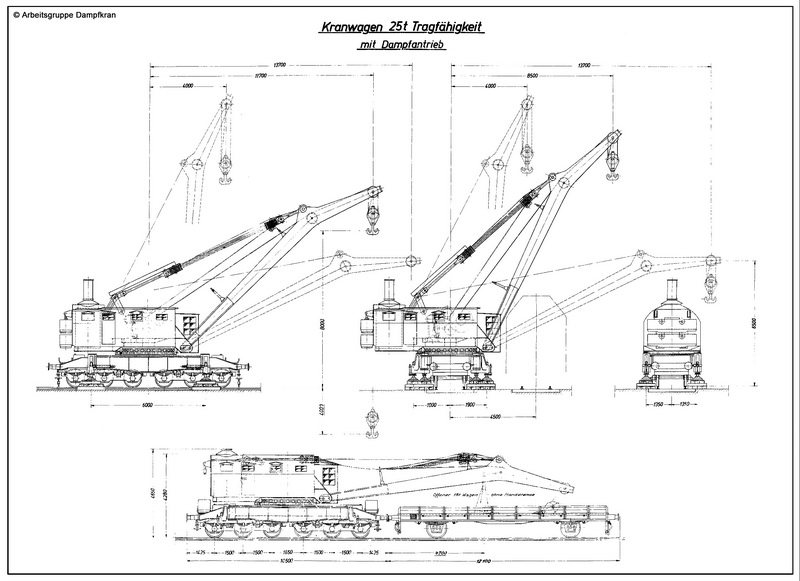 The steam crane project
Driving force of this project is a group of active members in the museum association of Dresden-Altstadt. We want to present history vivid and preserve it as long as possible for our descendants.
Why a steam crane in our museum?
How does a large steam crane work? Who has ever witnessed an active steam crane? Of course, our steam crane will be fully revitalized. It should not only be presented but as well be active as a living creature in numerous railroad museum events. Numerous people should feel the fascination of the technique based on steam of the former ages. Due to the quasi-stationary operation everybody can get very close to the exhibit and experience the great adventure.
A further reason for this project was to preserve the very last specimen which was retained as one complete entity up to date. In spite of its storage outside for at least 30 years, its overall condition has not degraded too much. Even during its "active times" it may hardly be stored inside a shed. Based on its well-preserved substance, it is really worth to kepp this crane for the future.
Why a vehicle of former Deutsche Bundesbahn in
Dresden?
This vehicle represents a part of German history. It was put into service on November 3rd, 1949 and hence it may be assumed that it was ordered, constructed and built before the distinct division of Germany into the Bundesrepublik and the GDR. The steam enging was built in Eberswalde as early as 1942 and the boiler in Wuppertal earlier in 1949. Hence one may claim that if history had taken another direction, we should not rise this question at all.

We intend to present the crane in a historically correct shape and in working condition. On top, we want to document its history in many ways - based on texts, images and movies. We as well want to demonstrate the crane in characteristic surroundings. In close cooperation with partners we want to preserve German industrial history for our descendants.