12th Dresden Steam Engine Festival
to be held April 17th to 19th, 2020


This site will gradually publish any information about the festival, i.e. general programme, guest engines, steam-hauled vintage trains and so on. Thank you for repeatedly visiting this webpage!

Find here: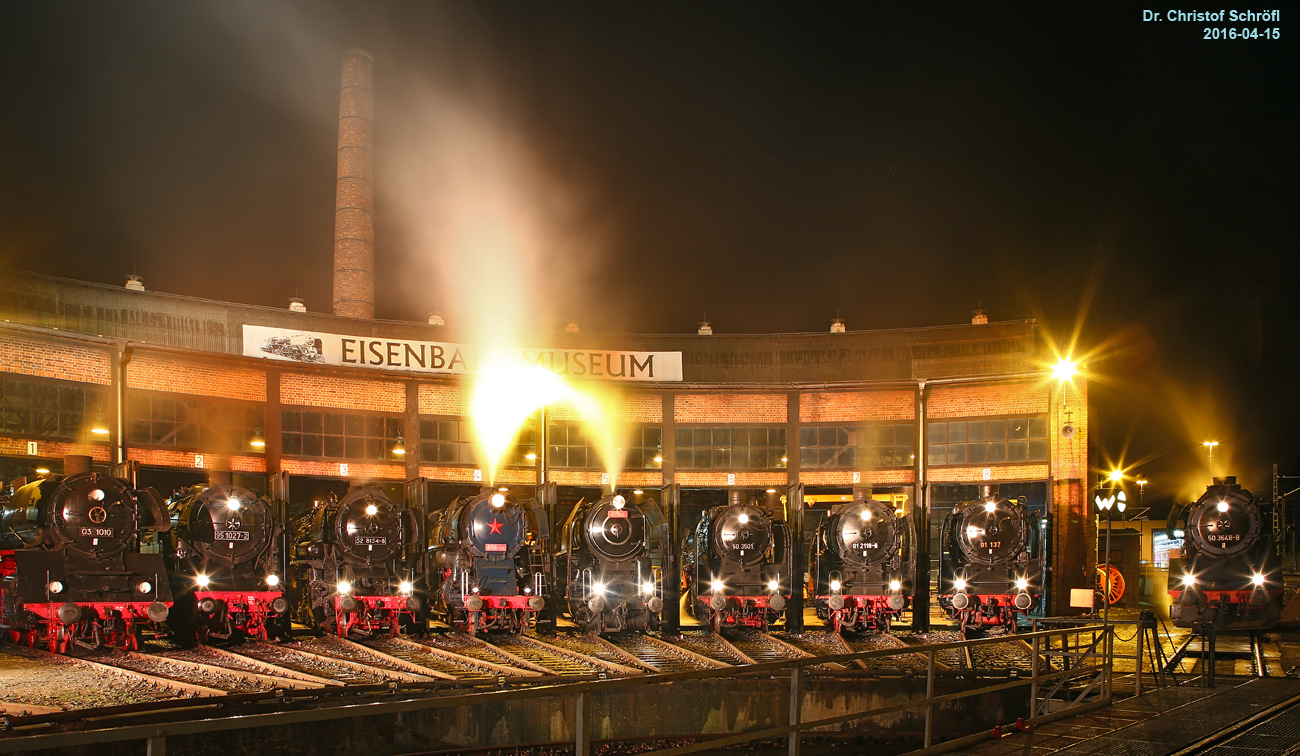 General information
The Dresdner Dampfloktreffen has established its place among railway and steam galas in Saxony for many years. Vintage trains from various regions of Germany as well as from neighbouring countries intend to approach Dresden, for their travellers and rolling stock to attend this gala. Similar to previous years, we intend to have illuminated evening photo sessions and a live music concert "Steam & Dixie". An attractive programme of half-day and full-day excursion trains will be offered. We cordially welcome you as our travelling guests, in addition to "feel" the atmosphere in our depot.
Steam excursion trains intended - state of planning: July 24, 2019
Along the 12th Dresden Steam Engine Festival the following vintage trains are planned, each hauled by a steam locomotive. The exact engines will be published here later on (expected in January 2020). Any data are subject to changes, but on the whole and large, the concept will most likely apply as presented here.
The ticket-presale on our website will start on 1st of October, 2019.

Friday, 17-04-2020, afternoon:
"Die Rampensau"
(the name of this tour indicates something like a wild boar that keeps on bulling up steep inclinations one after another... when you familiarise with geographic details of the surroundings of Dresden you may grasp the image behind this name...)
Dresden main station - Freiberg - Dresden-Neustadt - Radeberg - Dresden main station
(Price: 42,00 Euro p.p. or 54,00 Euro as a combined ticket, no further discount)
Saturday, 18-04-2020, morning:
Train on Tharandter Rampe parallel to a freight train
Passenger train: Dresden main station - Freiberg - Dresden main station
Freight train: Dreden-Friedrichstadt - Klingenberg - Dresden-Friedrichstadt
(Price: 42,00 Euro p.p. or 54,00 Euro as a combined ticket, no further discount)

Saturday, 18-04-2020, afternoon:
"Dampfender Schlesier" ("The Steaming Silesian", maybe better translated as "The Flying Silesian" according to the great days of steam express services)
Dresden main station - Bautzen - Görlitz - Bautzen - Dresden main station
(Price: 42,00 Euro p.p. or 54,00 Euro as a combined ticket, no further discount)

Sunday, 19-04-2020, morning:
"Parallel-Dampf satt"
Dresden main station - Bad Schandau (devided passenger train between Dresden main station and Pirna, travel as a parallel ride) - Decin (CZ) - Ústi n.L. (CZ) (devided passenger train, parallel ride on both sides of the river Elbe) and retour
(Price: 42,00 Euro p.p. or 54,00 Euro as a combined ticket, no further discount)

Sunday, 19-04-2020, afternoon:
Altenberg
Dresden main station - Heidenau - Altenberg - Heidenau - Dresden main station
(Price: 42,00 Euro p.p. or 54,00 Euro as a combined ticket, no further discount)

Partners of the 12th Steam Engine Festival