Time schedule for special trains along 10th Dresden Steam Engine Festival
Friday, 2018-04-06
Train: "Elbflorenz" Dresden - Berlin - Dresden
Dep. at Dresden main station: xx:xx

Arr. on Dresden main station: xx:xx

Saturday, 2018-04-07 Morning
Train: Dresden - Kamenz - Bautzen - Dresden
Dep. at Dresden main station: xx:xx

Arr. on Dresden main station: xx:xx

Saturday, 2018-04-07 Afternoon
Train: Dresden - Meißen - Nossen - Freiberg - Dresden
Dep. at Dresden main station: xx:xx

Arr. on Dresden main station: xx:xx

Sunday, 2018-04-08 Morning
Train: Dresden - Freiberg - Dresden
Dep. at Dresden main station: xx:xx

Arr. on Dresden main station: xx:xx

Sunday, 2018-04-08 Afternoon
Train: Dresden - Decin (CZ) - Usti n.l. (CZ) - Dresden
Dep. at Dresden main station: xx:xx

Arr. on Dresden main station: xx:xx

- Bahn Dresden proudly presents:
Dampf & Dixie (Saturday, April 8th, starting at 7 pm.)
Admission fee: 15,- Euro per person
Tickets are available in >>> advanced booking <<<, possible remaining tickets at our cash desks during the festival.

For the first time the live music event will take place in the roundhouse (House 4) of Dresden Transport Museum. We are very glad to celebrate this event in cooperation with S-Bahn Dresden this year.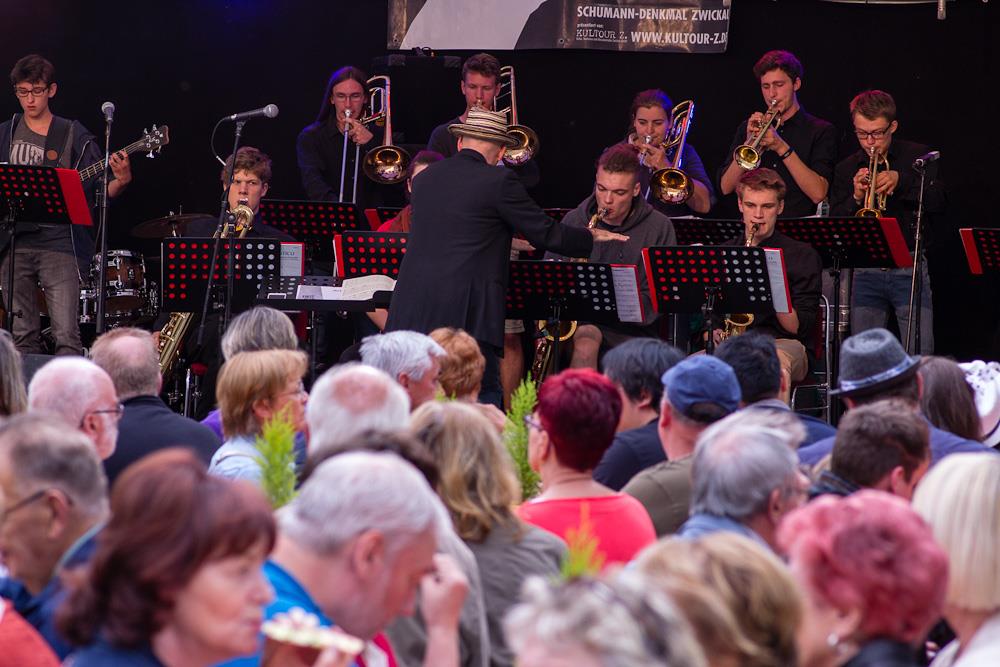 Different bands will perform on this evening. Here the planned schedule as well as a short band description:
Entrée
Saxophon Quartett 6:30 – 7:00 pm.

Concert
Bigband Explosion 7:00 – 7:30 pm.
Blue-Dragons-Jazzband 7:45 – 8:30 pm.
Werkstatt BigBand 8:45 – 10:00 pm.
open session 10:00 – 10:30 pm.

Blue-Dragons-Jazzband
Beleive it or not - the Dresden Blue-Dragons-Jazzband exists since 2004 and the youngest member just turned 21. In the last years they have developed from a Teeny band to a well-known Jazz band in the Dresden Dixie music scene, performing on the international Dixieland fastival this year, again.
Bigband Explosion
Although the musicans are still quite young, the Bigband of the Dresden Conservatory Heinrich Schütz regulary inspires the auditions. They participated very successfull on different performances, e.g. at the "Mitteldeutsches Bigbandtreffen", directed by Andreas Reuter.
Werkstatt BigBand
The Werkstatt BigBand Dresden combines the Dresden music student of Dresden Technical University and the College of Music Dresden. Since 2011 they "swing" together, directed by Sebastian Haas. The special thing is, that students are allowed to take over direction of single songs.

Source: http://werkstattbigband.de/
E 77 10, built in 1925, tenderly nicknamed "Elli"
– a special appreciation to celebrate her 90th birthday

(an anniversary text by our colleague Alfred Hobl)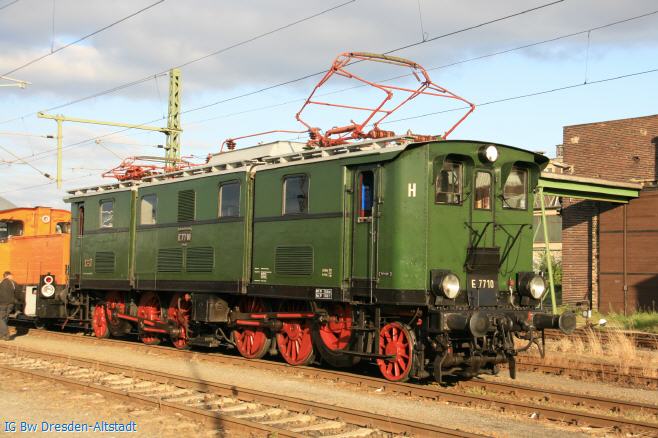 Our wonderful historic electric loco E 77 10 had its last general inspection three years ago. On October 4th, 2012, the oldest and – by that time the only – German electric loco with rod drive in active working condition hauled a charter passenger train from Dresden to Eisenach in preparation of the chassis inspection. The next day, Meiningen's V 100 Diesel locomotive transferred it to the Meiningen heavy repair works. There, E 77 10 – which is owned by DB Museum and under the operative protection of Erzgebirgsbahn – received new wheel tyres at all wheelsets. Additionally, the oil in the transformator has been exchanged and the radio communication and INDUSI installation checked and updated.
After an extensive, intense general inspection (which included overhaul and repair of components) this only, still active electric locomotive with rod drive returned to Dresden in December 2013 and was presented at the 6th Dresden Steam Engine Festival with celebration week from April 4th to 13th, 2014, on behalf "175 years of first German wide-range railway Leipzig‑Dresden" in refurbished beauty. Promoting joy to numerous visitors and railway enthusiasts from all over the world, E 77 10 hauled excursion passenger trains through the beautiful Elbe river valley and up the Tharandt's steep inclination (Tharandter Rampe).
Financing was done by IG Bw Dresden-Altstadt – a cordial thank you to all sponsors, donators, supporters and intensely committed colleagues.
A special highlight was the semi-public excursion train on May 28th, 2015, to Zwickau via Freiberg, Chemnitz (including parallel driving with electric locomotive 242 001 of MTEG/PRESS) and back. In the next year as well, special trains will be offered with E 77 10 through the beautiful Elbe river valley and up the Tharandt's steep inclination.
Questions & booking:
>>> Reisebüro Maertens <<<, Tel.: 0351 / 56393930
In the frame of the 8th Dresden Steam Engine Festival (15.-17.04.2016) with the motto freight service yesterday and today, "our Elli" will be hauling special trains. Further information >>> here <<<.
Subcategories