Steam locomotives as guests in Altstadt in the Advent time of 2017
Like every year, Dresden is a famous destination for vintage trains from numerous regions of Germany. Countless people can this way attend the Striezelmarkt or other local events in a very relaxed manner. The steam engines of these trains come to the Dresden Altstadt depot where members of the association Bw Dresden-Altstadt e.V. supply them with water, coal, and enable further technical treatment. As an example, 03 1010 (DB Museum, Traditionsgemeinschaft Bw Halle P e.V.) came to Altstadt on December 9th, 2017.
On the other hand, some steam-hauled trains are operated from Dresden in those days. Their engines are as well regular guests in Altstadt, like was 23 1097 (IG 58 3047, Glauchau) on December 15th, 2017.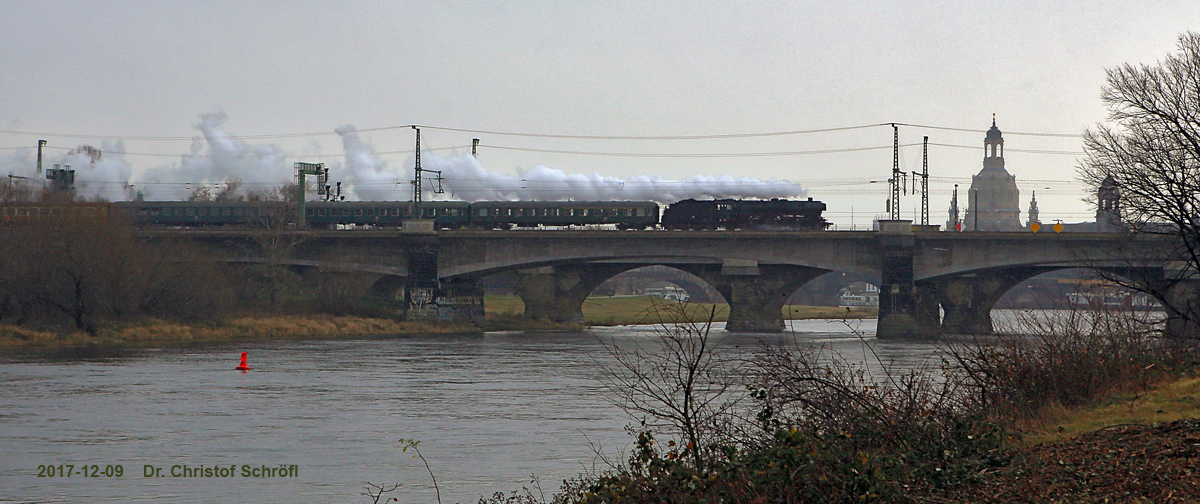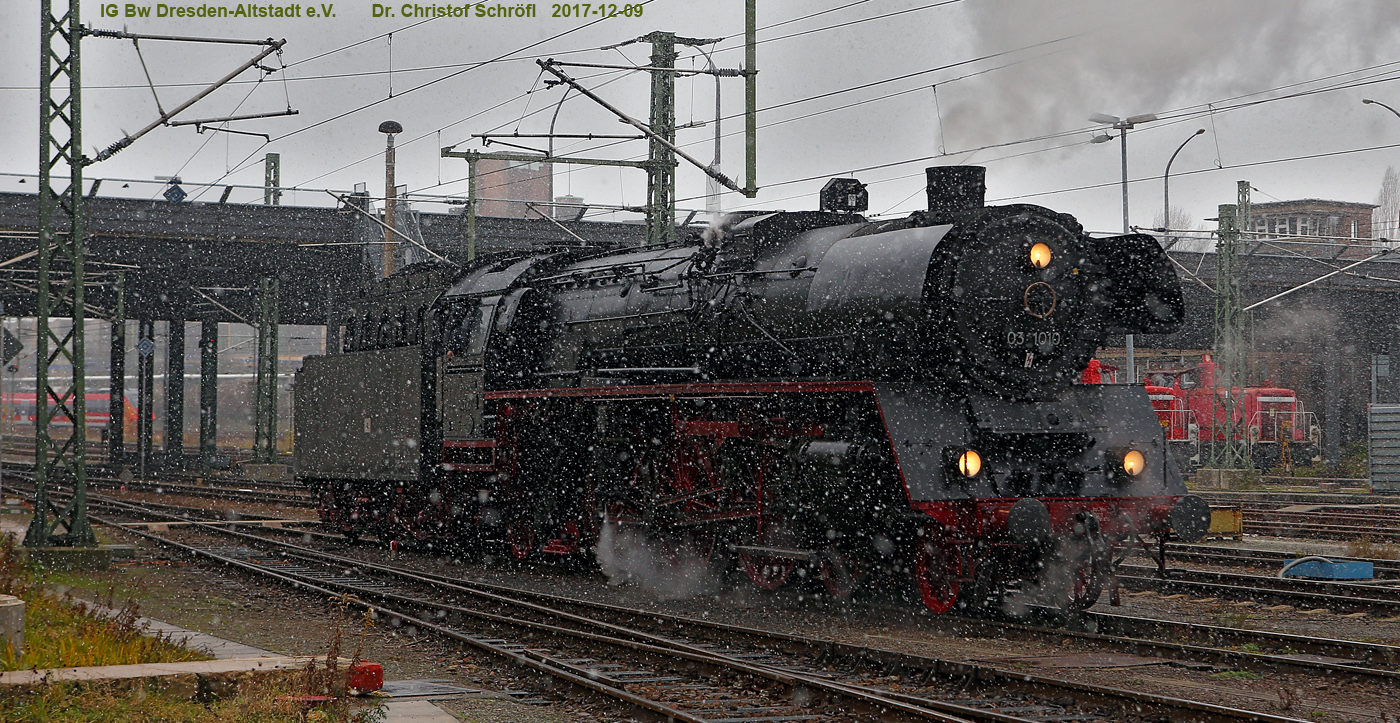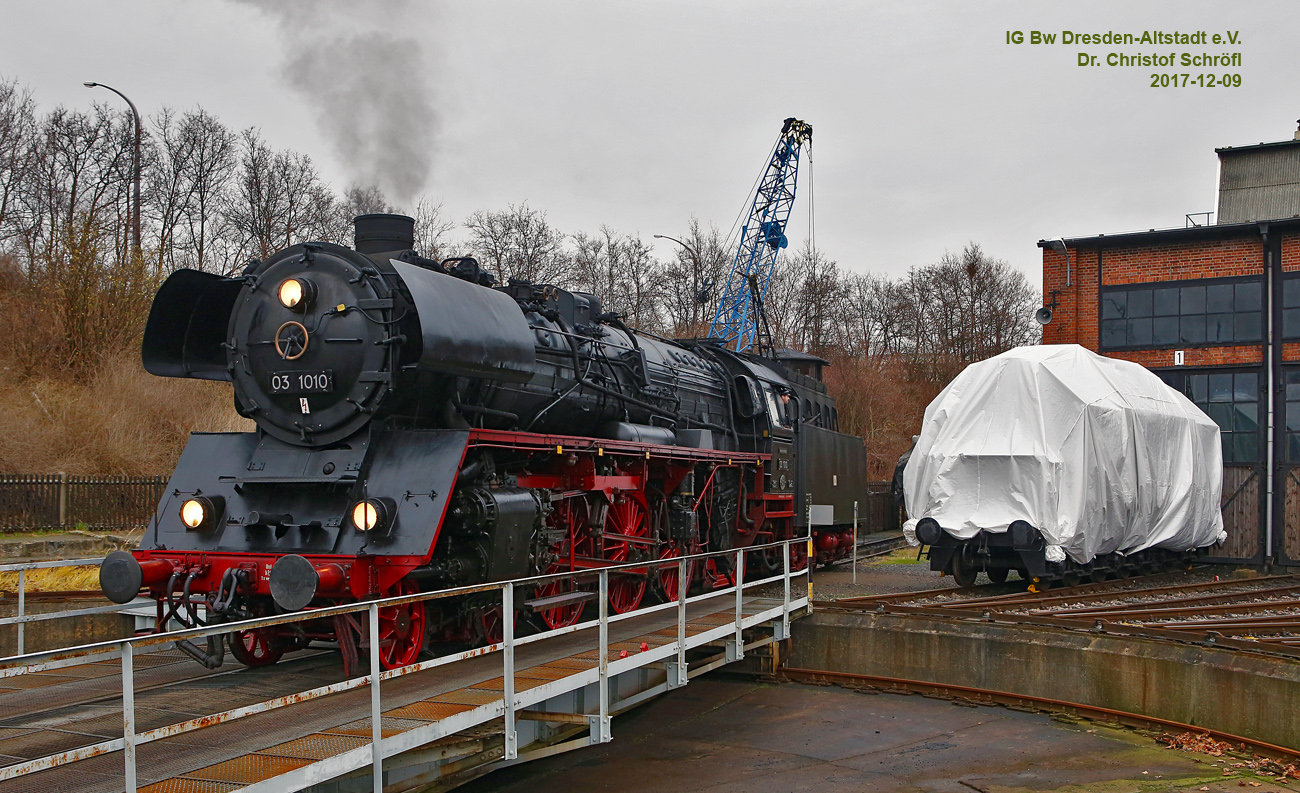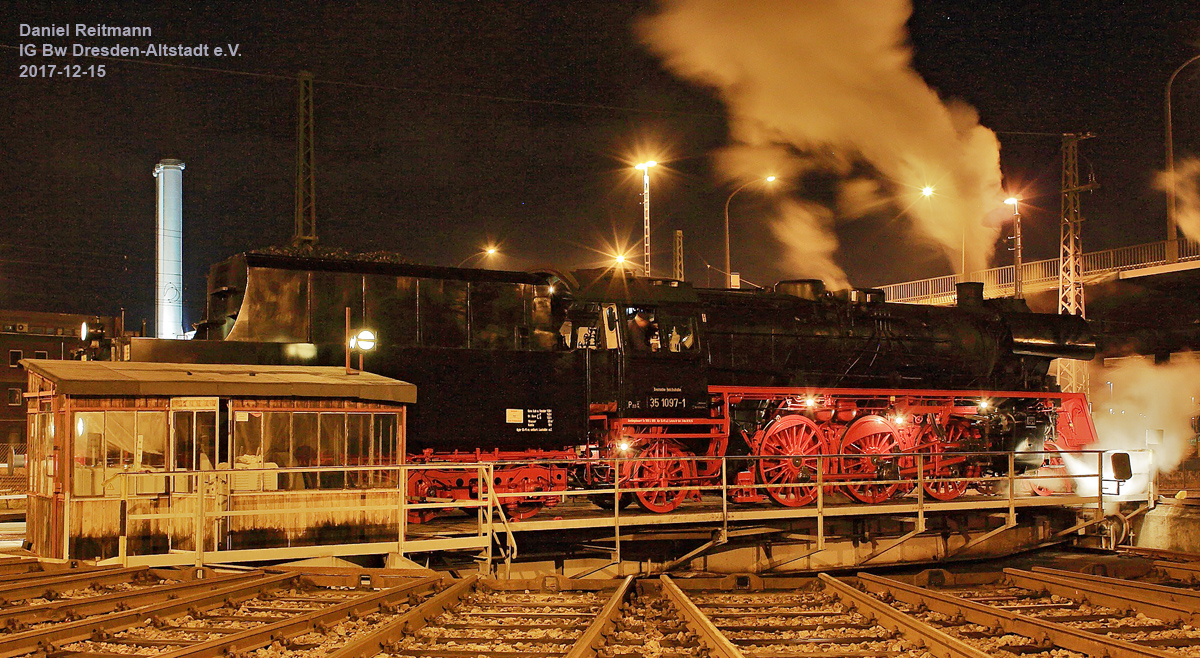 Beitrag: Dr. Christof Schröfl, Mitarbeiter Medien, IG Bw Dresden-Altstadt e.V.
The "End-of-Season" festival, October 14th and 15th, 2017, was blessed by phantastic sunny weather. Numerous visitors joined the exhibition grounds and enjoyed footplate rides on E 77 10 and 50 3648, respectively. Some images below should keep alive the memory of these two eventful days. Many thanks as well to one videographer who allowed us to link his movie in this place: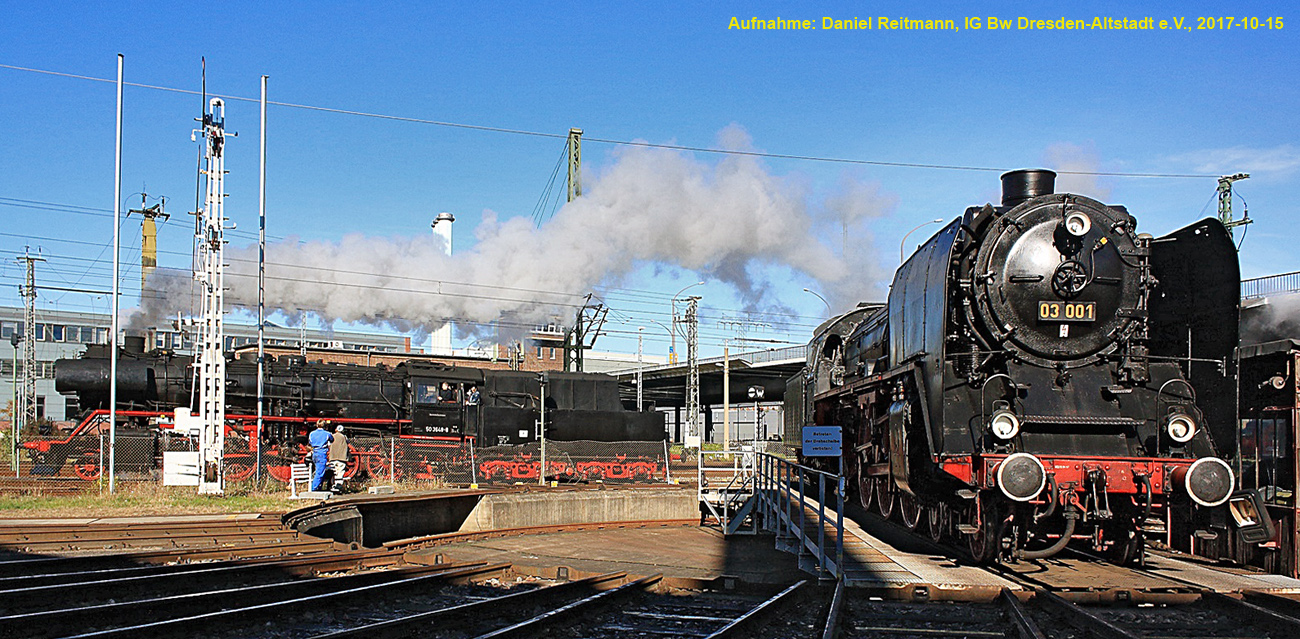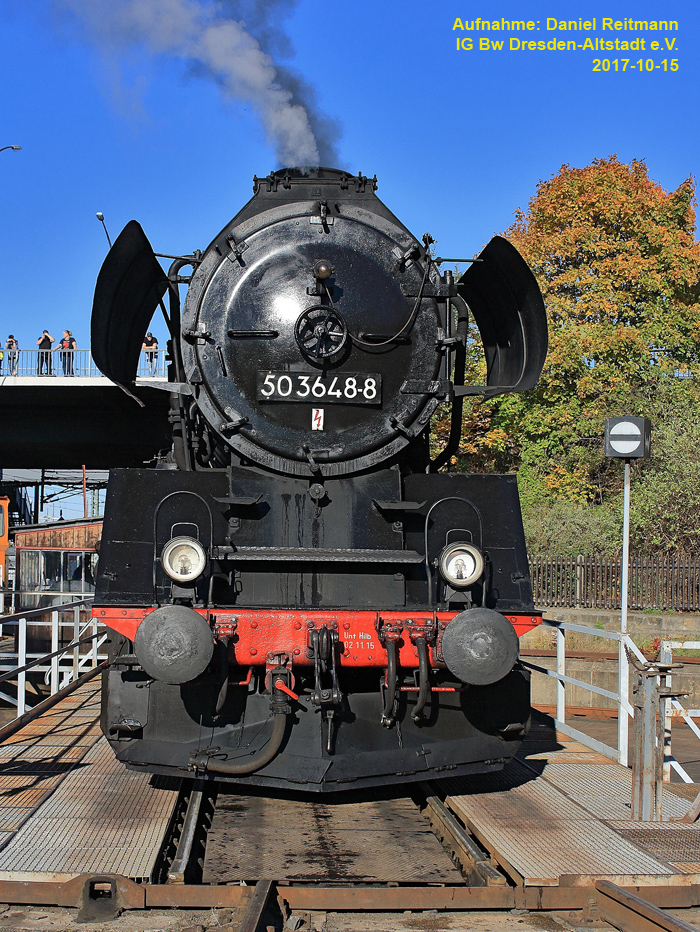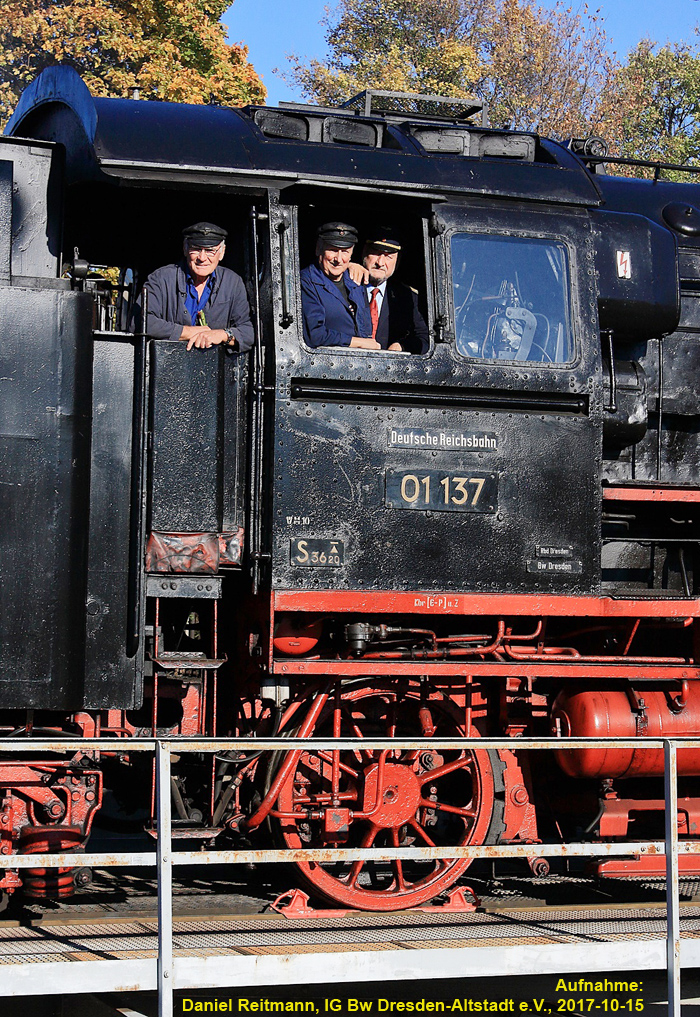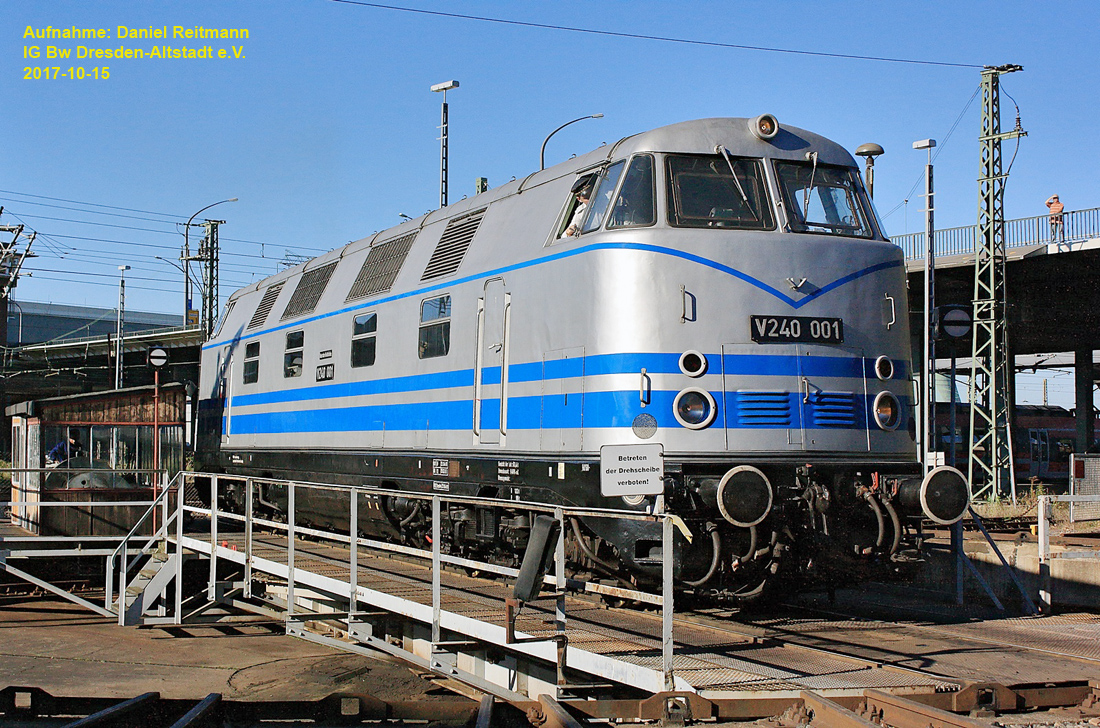 Text: Dr. Christof Schröfl, Mitarbeiter Medien IG Bw Dresden-Altstadt e.V.
On Saturday, September 16, 2017, our association was invited to present historical railroad vehicles in the steel factory in Hainsberg on behalf of their annual public festival. Hauled by ITL's 106 006 - thank you, ITL, for this generous support! - the one and only Altenberger carriage of ISEG as well as 130 002 and ORT 188 202 of VMD travelled from Altstadt to Hainsberg.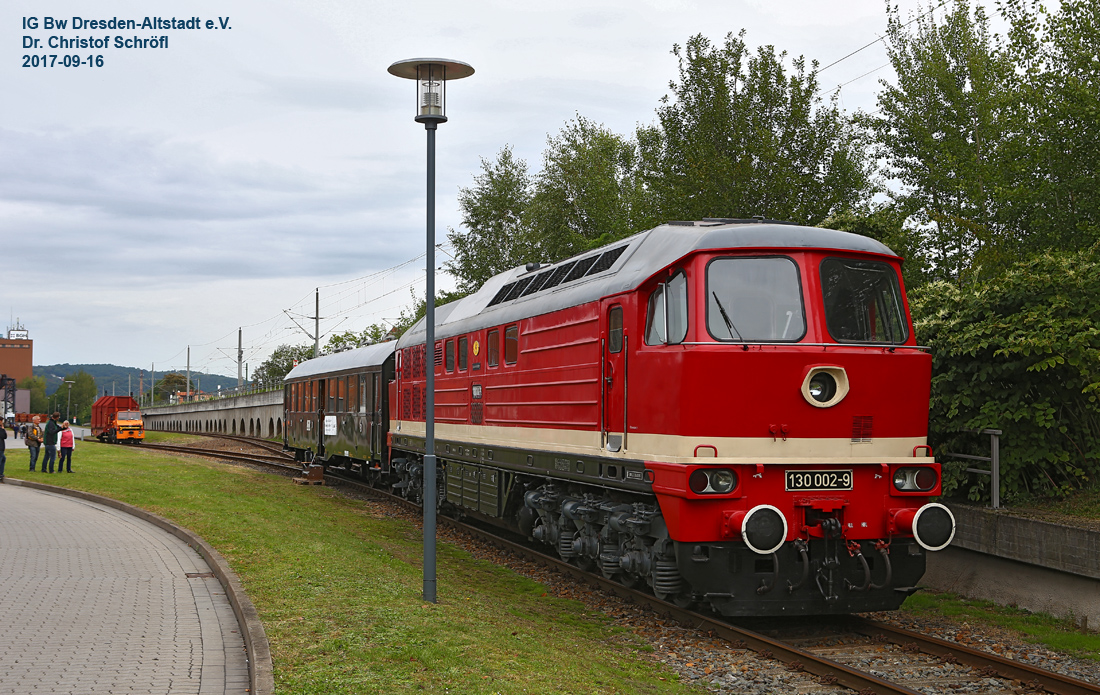 Later the same day, our association took part in the Dresdner Museumsnacht, a coordinated programme of evening and late-night museums openings all over the city of Dresden. We were sponsored professional illumination by LMAkustik, thanks a lot! http://www.lmakustik.de/index2.php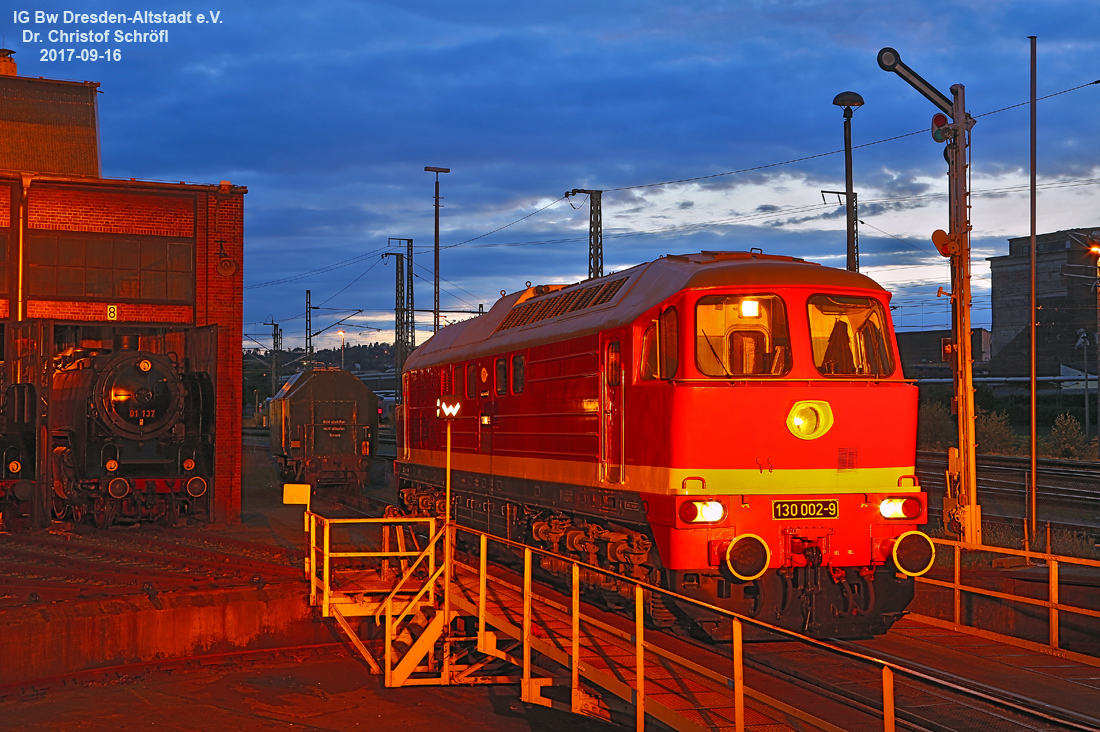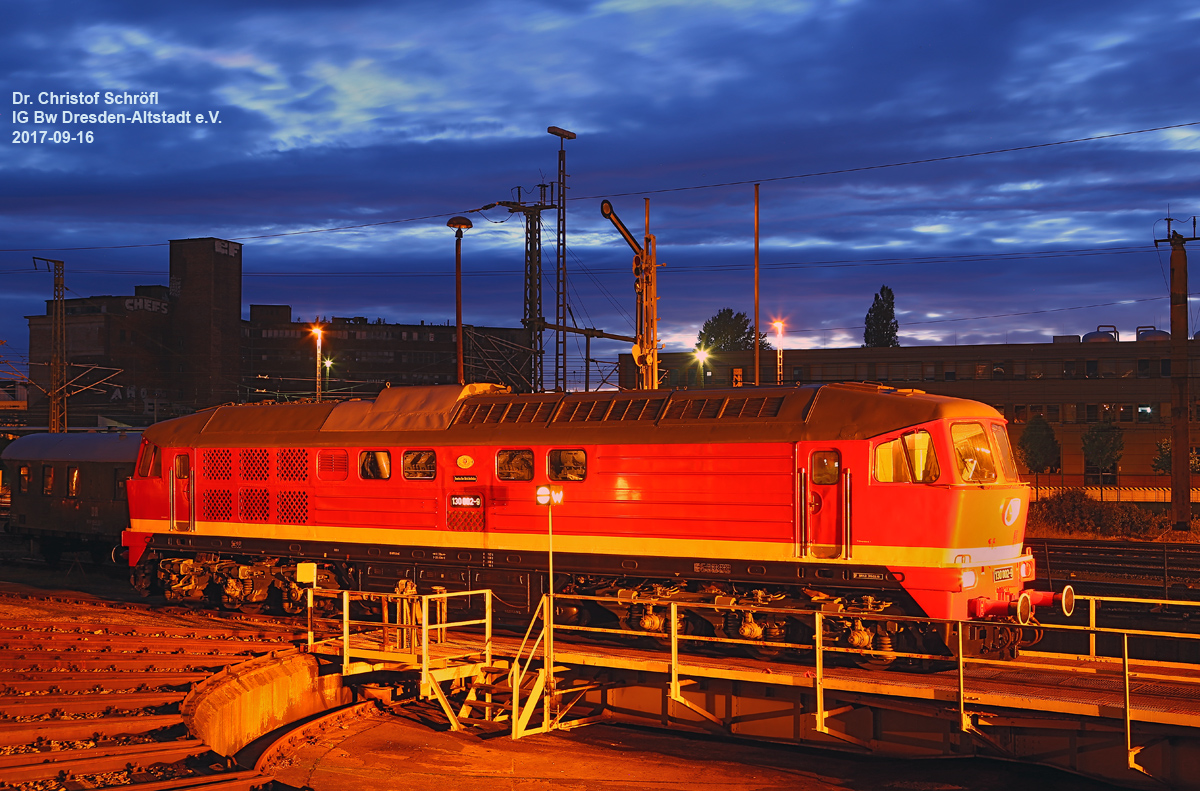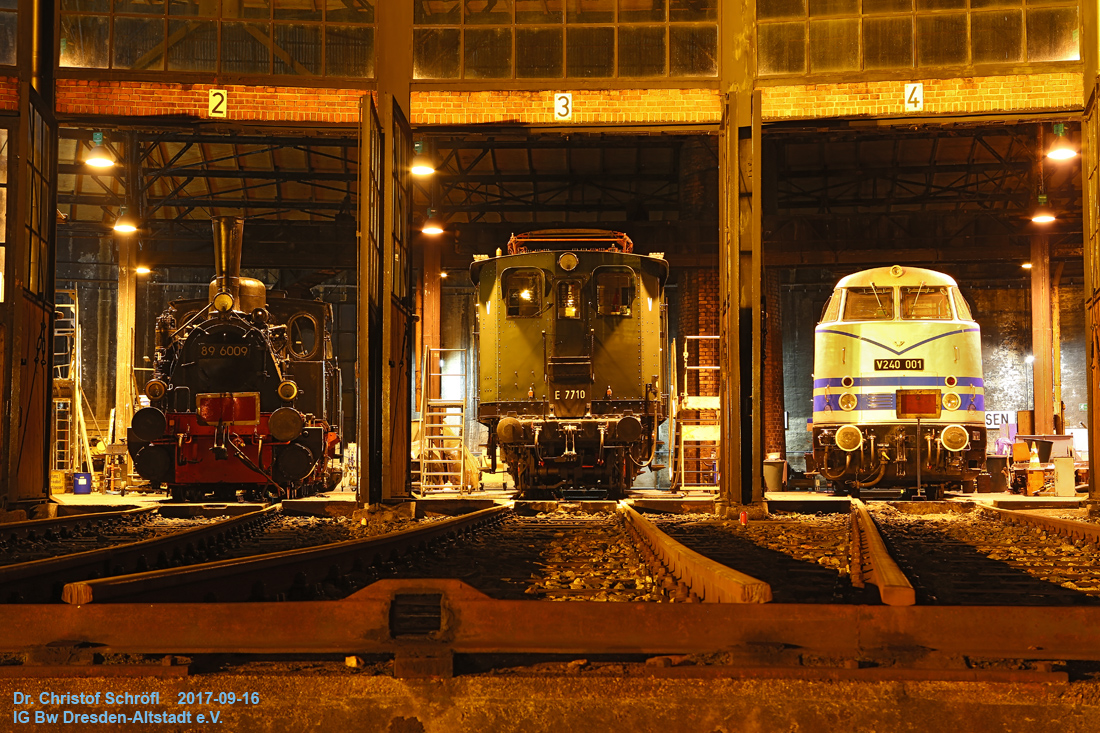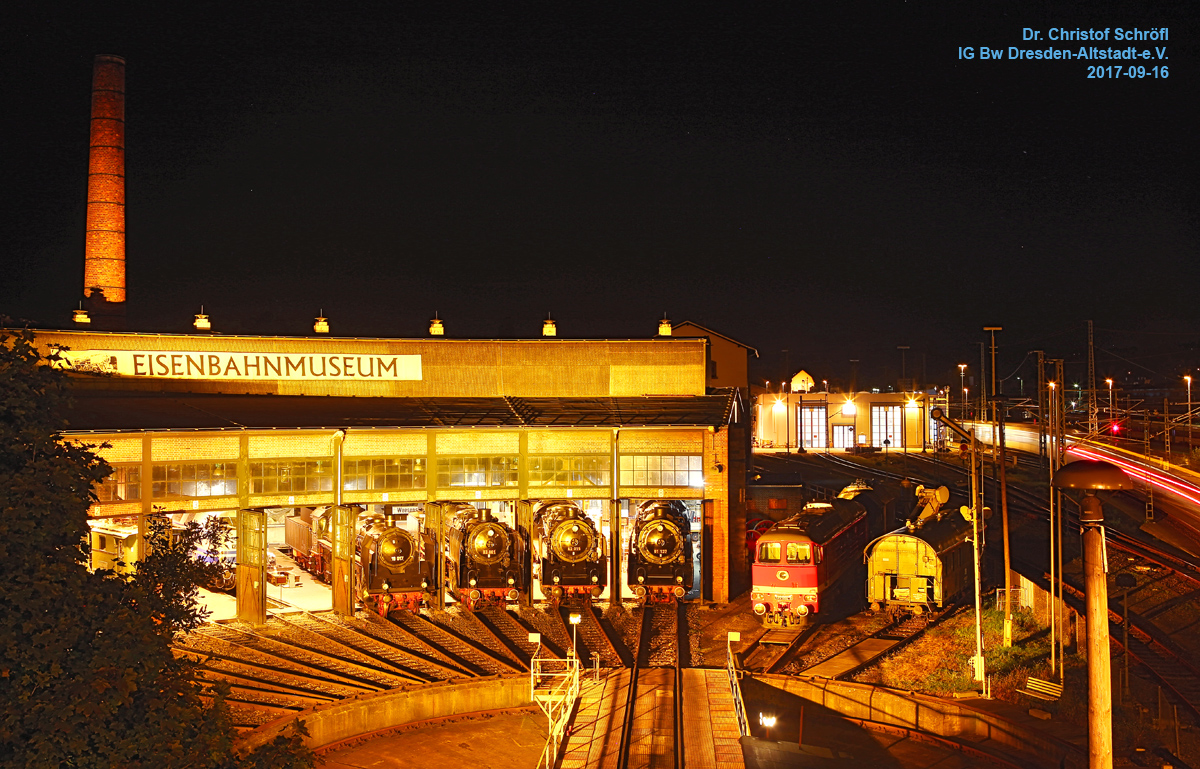 Author: Dr. Christof Schröfl, IG Bw Dresden-Altstadt e.V.
October 3rd, 2017, saw E 77 10 operate a chartered vintage train from Dresden Hauptbahnhof to Bad Schandau and back. Some impressions of this marvellous excursion: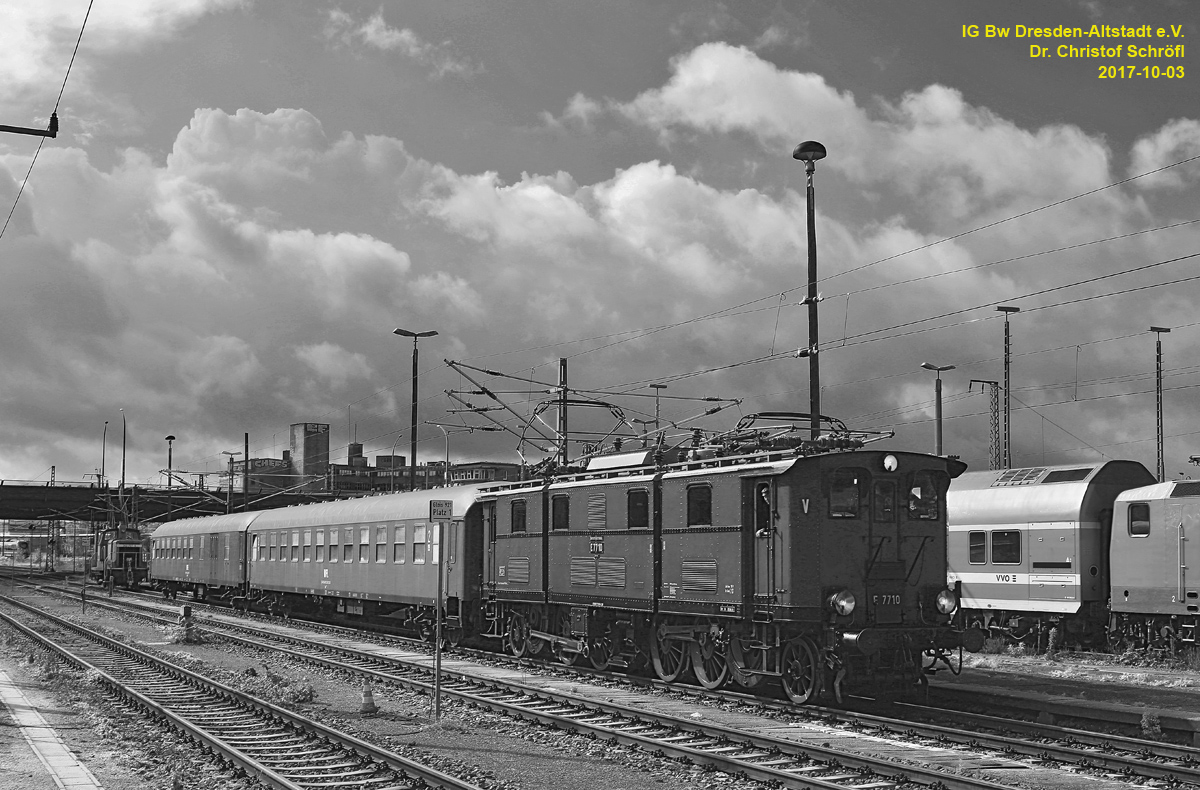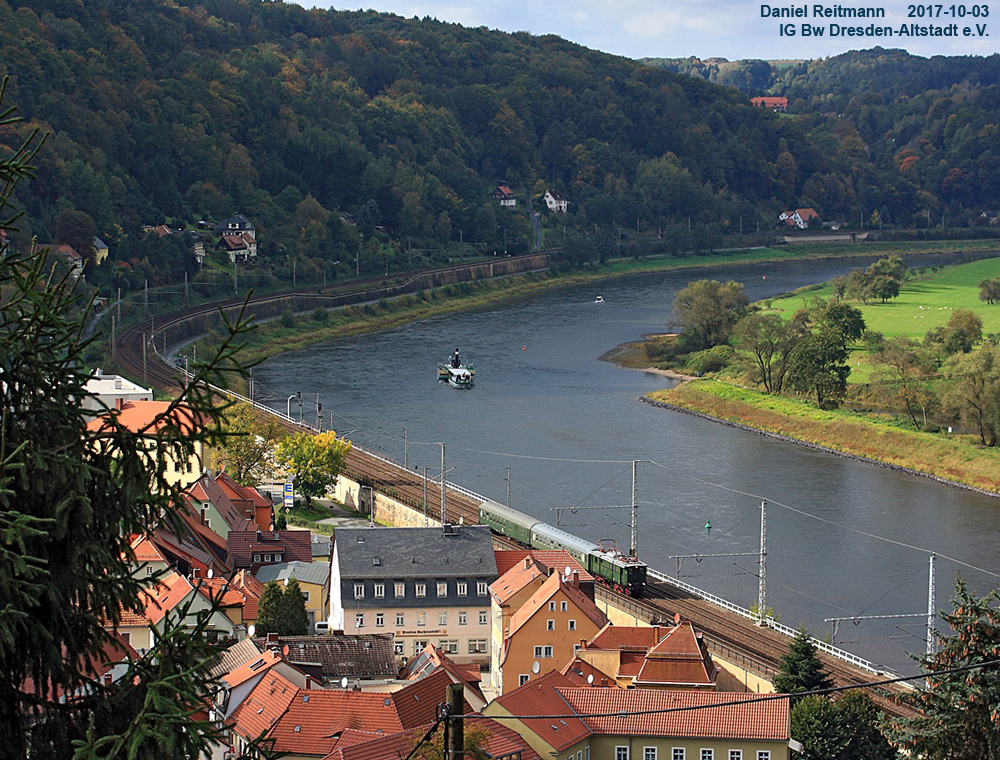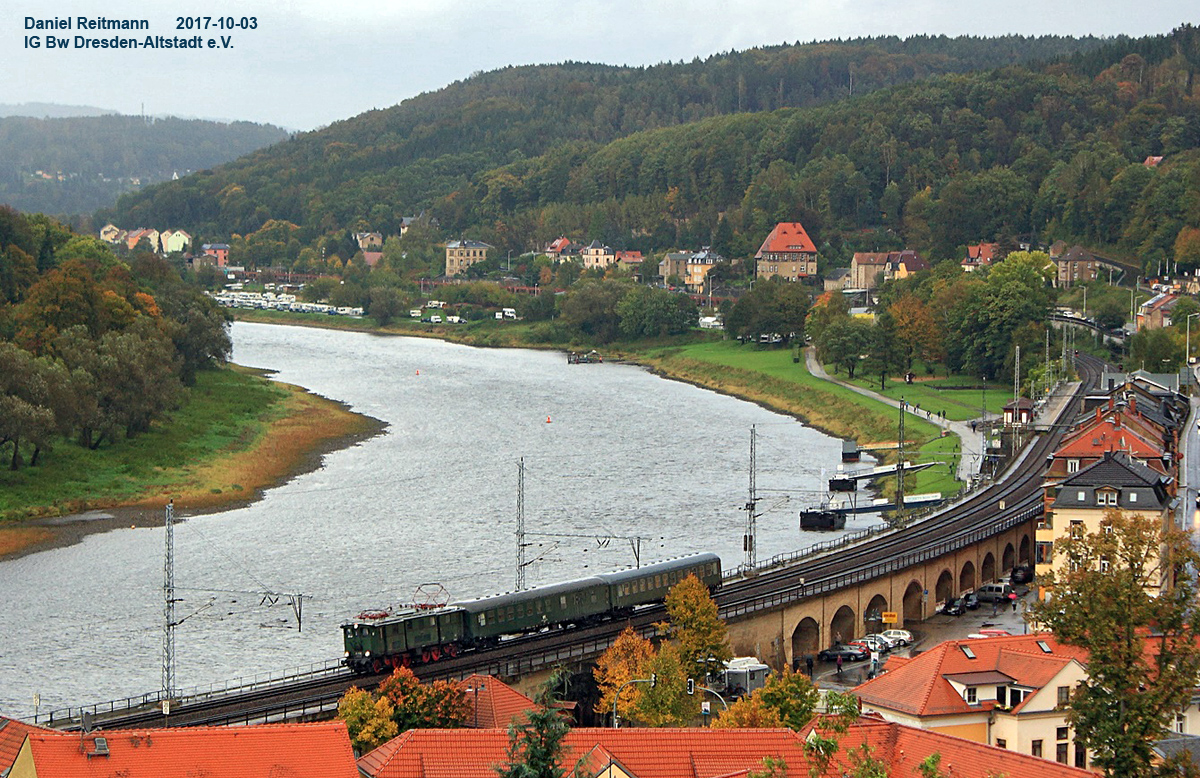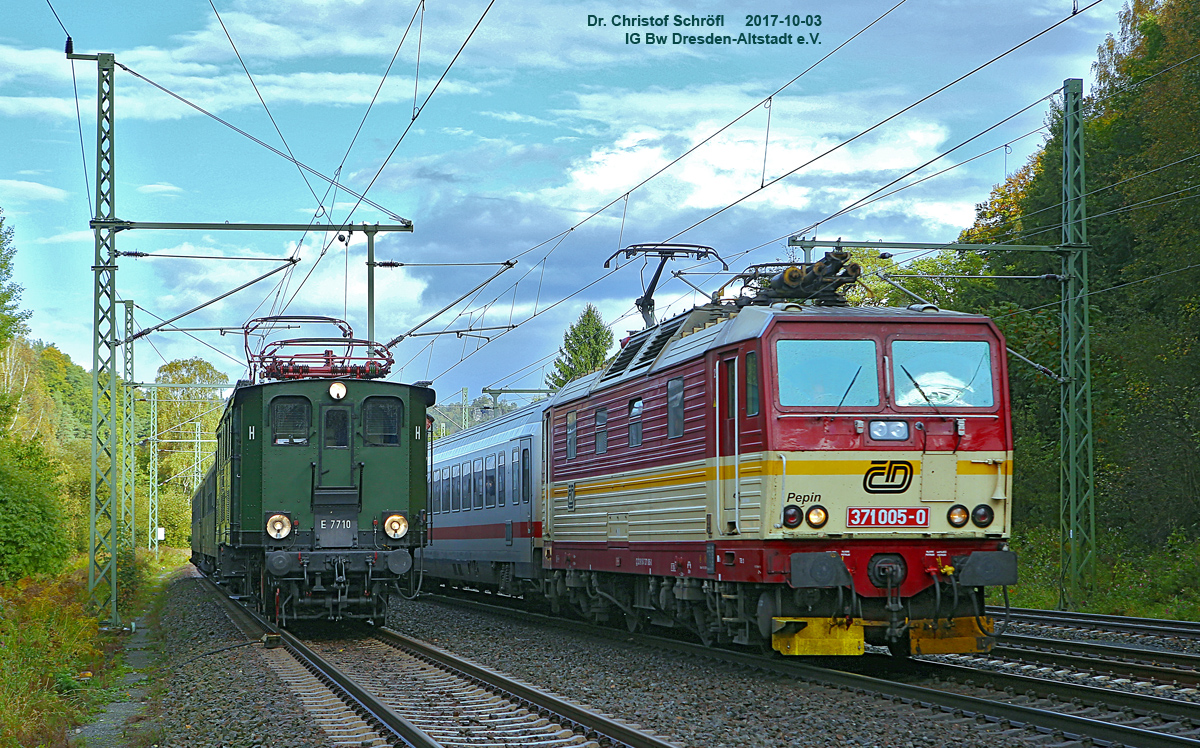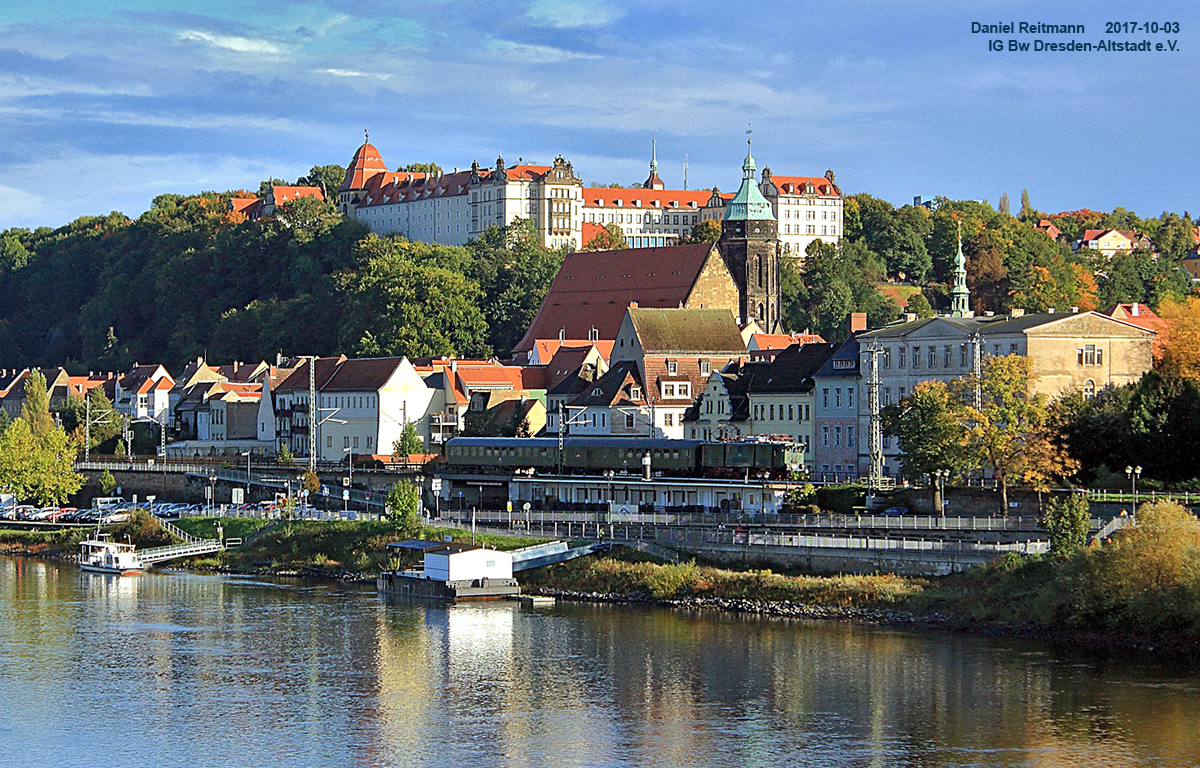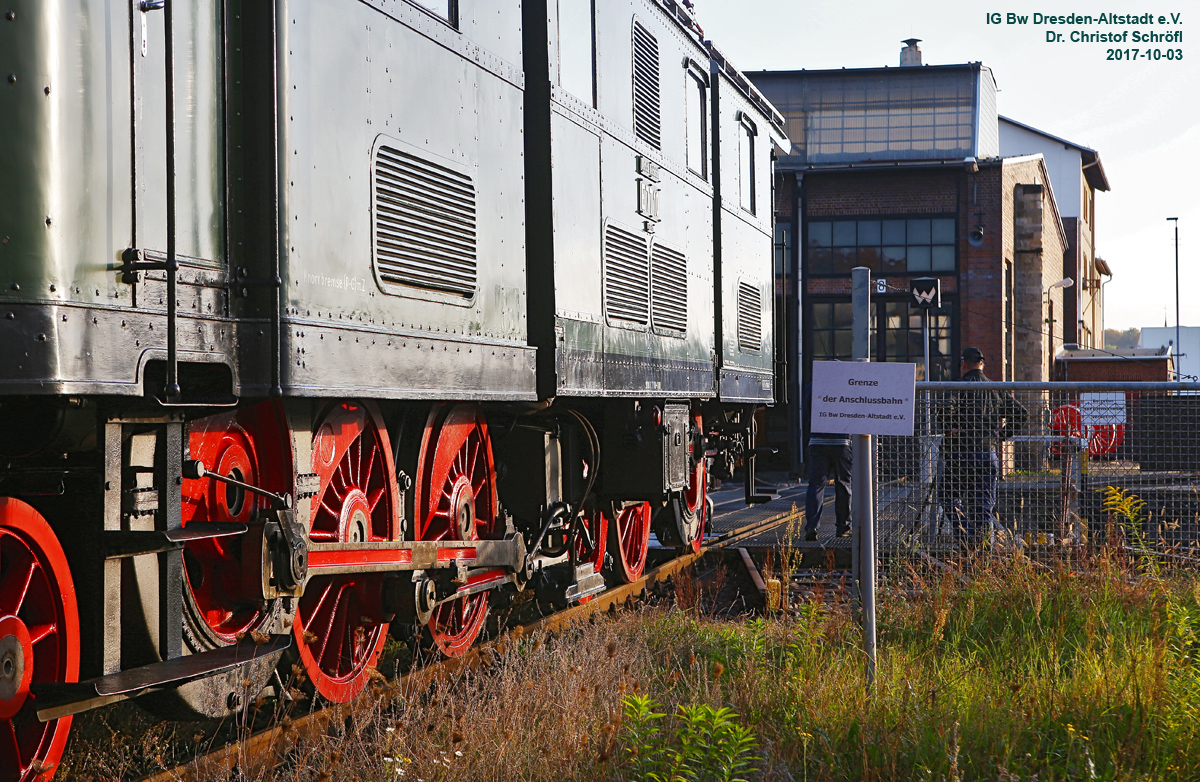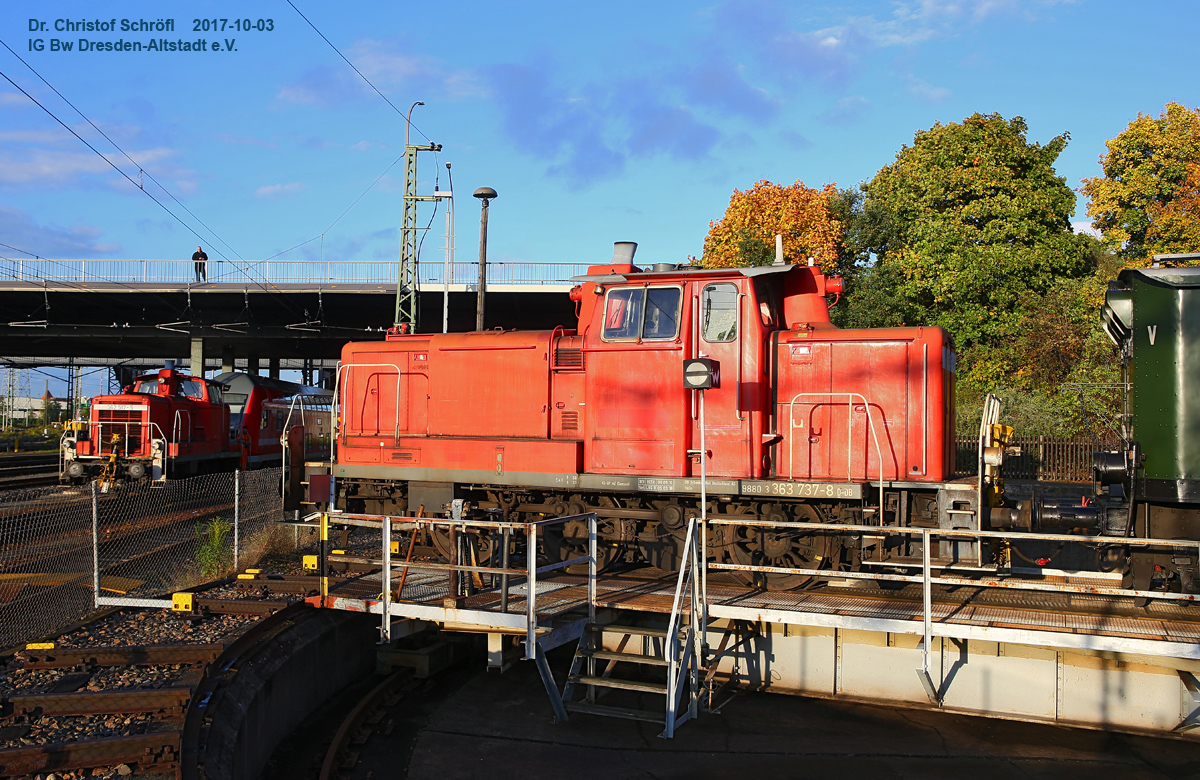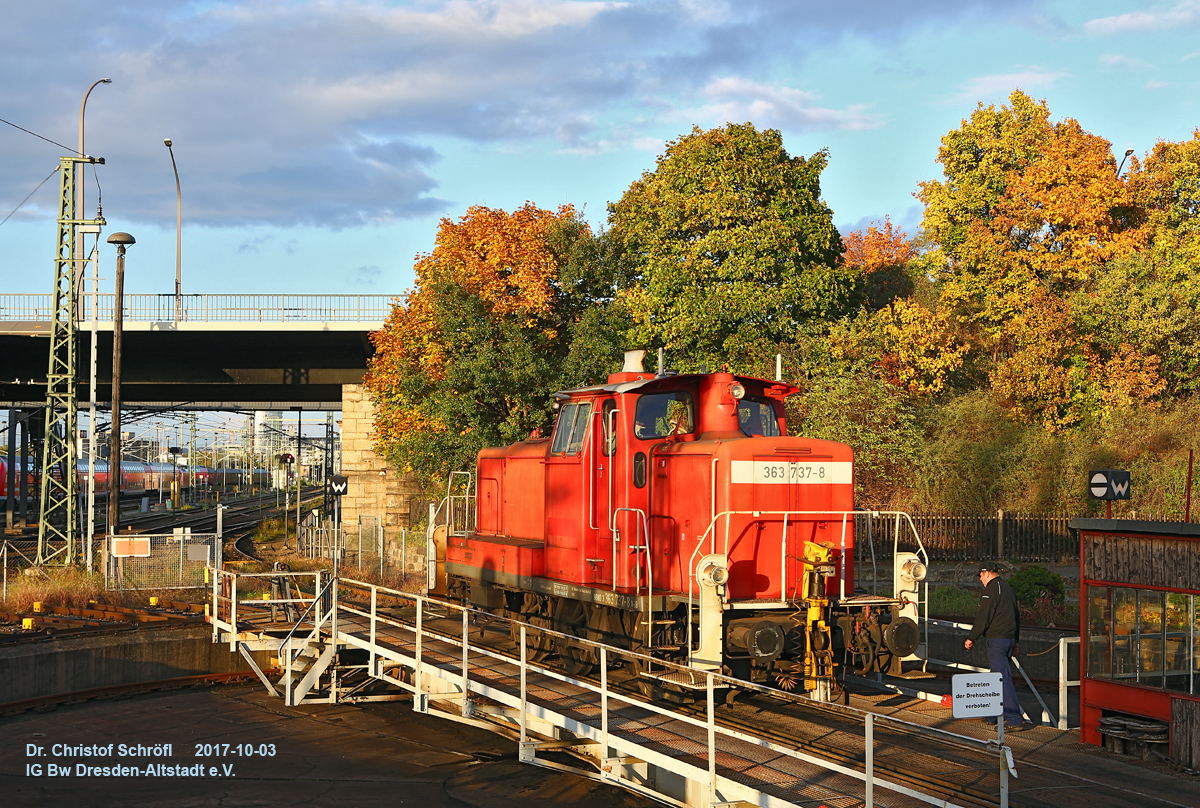 We cordially thank anybody who was involved in bringing this fabulous event to life!
Text: Dr. Christof Schröfl, Mitarbeiter Medien IG Bw Dresden-Altstadt e.v.
Our electric locomotive E 77 10 attended the Sommerfest in DB Museum Halle (Saale). The local organisers arranged footplate rides on their grounds so that anybody interested could vividly experience the electro-mechanical technique of the early 1920ies in full operation. After returning to the shed for the night, E 77 10 was lined up among further historical electric locomotives. It is noteworthy to point out that among these engines in the picture, E 77 10 is the only one in service. However, in Halle, a very active group of railroad enthusiasts and engineers are trying to reinvigorate E 95 02. Let us wish them all the best for their project! We have been very happy to participate in this festival :-)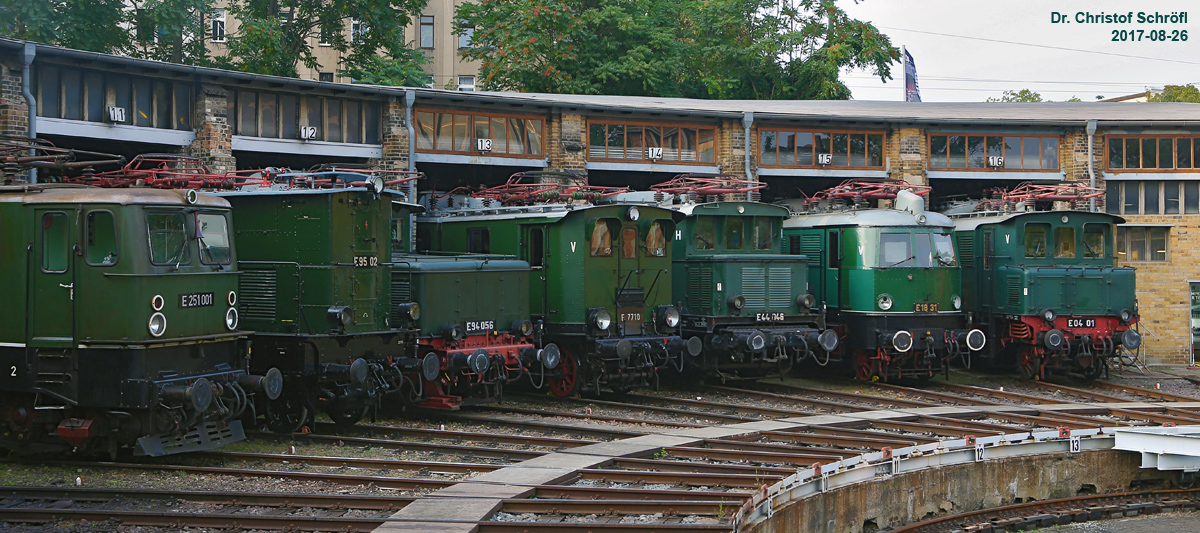 Friday, September 1st, 2017, saw E 77 10 in service on the route of "The Classical 8" at Dresden. A private charter train was to operate outbound from Hauptbahnhof via Friedrichstadt and the "Neubauspange" (connecting the Berlin- and Leipzig-bound lines) to Weißig close to Nünchritz - and inbound via Niederau and Neustadt. As the single carriage, we could use a Bghw of SEM in Chemnitz-Hilbersdorf. We cordially thank our travellers for their initiative to organise and operate this train for them!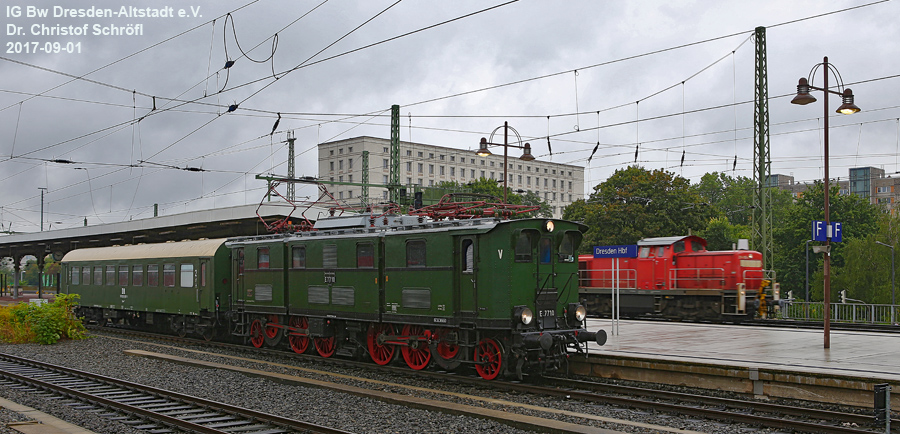 In early October 2017, our E 77 10 will take part in the train gala in Leipzig-Platzwitz. The local association of EMBB as well as we are looking forward to numerous interested guests! Maybe you want to be one of them... For details, please check EMBB's webpage (sorry, in German only, so far): http://dampfbahnmuseum.de/aktuelles/startseite
Author: Dr. Christof Schröfl, IG Bw Dresden-Altstadt e.V.