11th Dresden Steam Engine Festival
to be held April 12th to 14th, 2019
"Dresden macht Dampf"


This site will gradually publish any information about the festival, i.e. general programme, guest engines, steam-hauled vintage trains and so on. Thank you for repeatedly visiting this webpage!

Find here: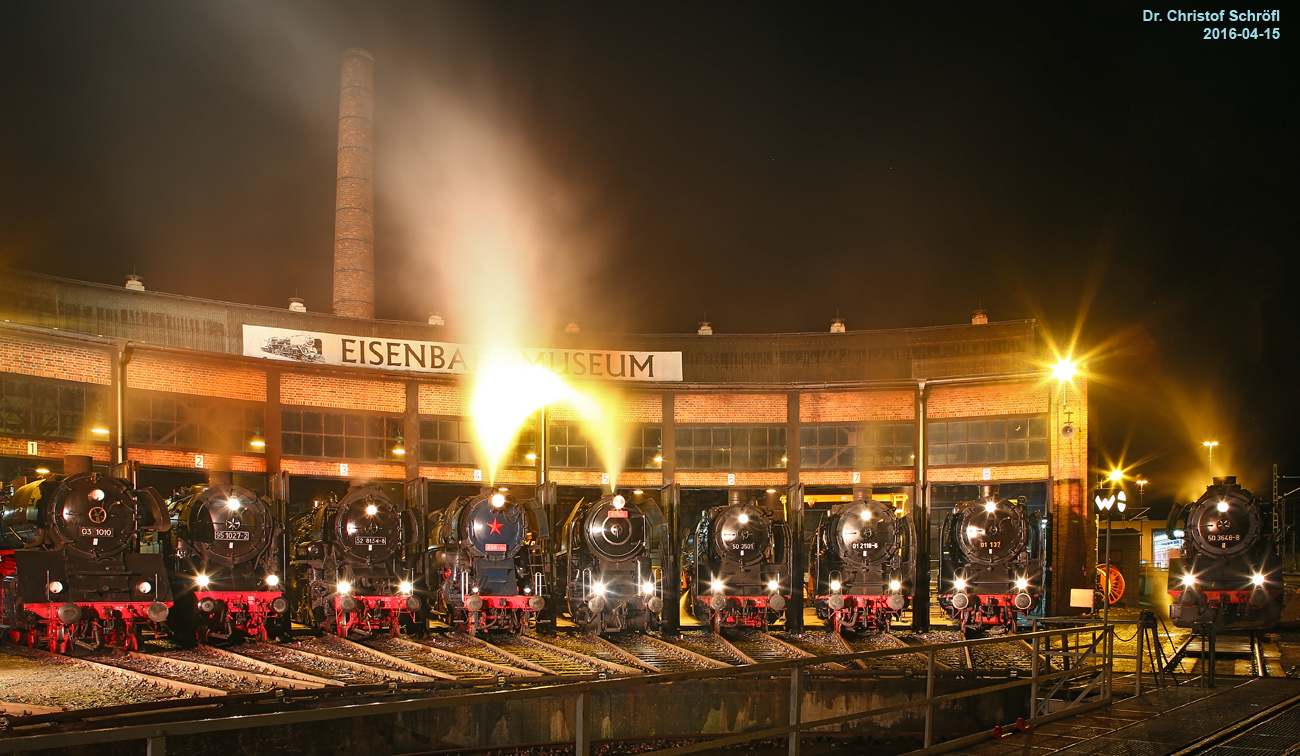 General information
The Dresdner Dampfloktreffen has established its place among railway and steam galas in Saxony for many years. Vintage trains from various regions of Germany as well as from neighbouring countries intend to approach Dresden, for their travellers and rolling stock to attend this gala. Similar to previous years, we intend to have illuminated evening photo sessions (Friday and Saturday) and a live music concert "Steam & Dixie" (Saturday night). An attractive programme of half-day and full-day excursion trains will be offered. We cordially welcome you as our travelling guests, in addition to "feel" the atmosphere in our depot.
Tickets to the museums grounds are of course valid for the festival area at Zwickauer Straße. Furthermore, they allow single-entry to Verkehrsmuseum Dresden "Johanneum" at Neumarkt (close to Frauenkirche) at one of the three days of the festival. It is up to you to attend Zwickauer Straße and Johanneum at the same day or to split the visit to two individual days within the timeframe of April 12 to 14.
Attention! Verkehrsmuseum itself does not offer any tickets for the 11th Dresden Steam Engine Festival at its renown vending locations! So please purchase your respective tickets via our webshop within the present webpage in advance - or buy them locally at Zwickauer Straße during the days of the festival.

Attending the festival grounds
Upon arrival at Dresden Hauptbahnhof please use the transfer busses, which shuttle you directly to the festival grounds at Zwickauer Straße or the Transport Museum at Neumarkt, respectively. Tickets are to be purchased locally at the bus. If you intend to attend the festival by car, please check our general instructions. But please be aware that Zwickauer Straße itself will partially be closed for ordinary traffic and that only few parking lots are available in the surrounding district of the city.
>>> Time schedule of bus shuttle <<<
Information desk at Dresden Hauptbahnhof (Dresden main station)
Our partner and travel agency AUGUSTUSTOURS will (as usual...) operate an information desk at Dresden Hauptbahnhof. They can inform about the excursion trains, bus transfer services, or any touristic offers relevant in the frame of the festival.
Programme in general
Zwickauer Straße will be closed for public transport between Nossener Brücke and Würzburger Straße. This area is included in the festival. Three entrances will be operated on Zwickauer Straße below the Nossener Brücke, at the intersection with Bamberger Straße and that with Würzburger Straße. Purchase of tickets as well as entry on behalf of pre-sold tickets will be possible there. Access to the numerous attractions inside the festival district:
Steam engines under operation in roundhouse 1, the respective turntable and water/coal supply facilities in the northern part of the area close to Nossener Brücke,

Footplate rides starting from and returning to the turntable at roundhouse 1 (sorry, queuing up will be necessary and extra tickets have to be purchased - sorry, we cannot offer pre-reservations for the footplate rides, neither for time-slots nor for tickets), excursion time about 20 minutes,

Model train exhibition on the third floor inside the main building, presenting historical HO-gauge modules that feature three sceneries of the Leipzig-Dresden main line,

Vehicles of Dresden Transport Museum in the area of the Depot of Dresden Transport Museum located in the southern parts of the festival, roundhouse 4 and the former hall for heavy maintenance,

Light railway connecting roundhouse 1 with the Depot of Verkehrsmuseum Dresden along Zwickauer Straße,

Vending booths for railway-related literature, railroad models as well as food and beverages,

Illuminated photo parades April 12 (Friday) and April 13 (Saturday), starting by 7 p.m. and ending around maybe 10 p.m. centered at the turntable of roundhouse 1, access with separate tickets only (EUROs 25 each),

Dixieland live music concert "Dampf & Dixie" April 13 (Saturday), the location has not yet been decided upon, access with separate tickets only (EUROs 15 each).
Intended guest engines
At present, it is most likely that the following engines will attend the festival in operating condition (last update: April 5th, 2019). Besides general presentation and haulage of excursion trains some of them will be available for footplate rides:
01 202 - see below - Friday till Sunday


52 8079, Dampf-Plus GmbH: Temporarily no webpage available, but the engine itself should be rather well-known

52 8177 - see below - on Saturday afternoon only

52 8195 - see below - on Friday and Saturday only

58 311, Ulmer Eisenbahnfreunde: UEF G12

91 134, Leipziger DampfKulTour


556.0506, from Czech Republic

E 77 10, DB Museum / IG Bw Dresden-Altstadt e.V.

118 552, ITL Eisenbahngesellschaft / Captrain

Further engines intend to come to Dresden in the form of multiple-day vintage trains organised by individual associations or companies. Please follow the specific links for further information. IG Bw Dresden-Altstadt e.V. cannot influence these engines or trains. The respective engines can only come to Dresden if sufficient numbers of travellers pre-book these trains. So please do not hesitate to contribute... As of yet, the 01 202, 52 8195 and 52 8177 have been confirmed. They will indeed be present at the festival, and 35 1097 will come here anyway...
Please be aware that not all engines can be present on the festival grounds throughout the entire opening hours. Further guest engines may attend the festival, please keep informed here from time to time.
Excursion train programme
As many of our guests may already know, we will offer an outstanding special steam train programme around the Steam Engine Festival. At the moment - which is April 5th, 2019 - the following trains are planned.
Attention: This programme is subject to changes. As of yet, we are not able to securely predict a dedicated steam locomotive or a dedicated route. The overall framework, however, may be considered as being settled. We expect the final and really binding routes just a few days before the festival. This is typical due to habits in how Deutsche Bahn AG issues schedules to us or any other comparable customer. As our trains are operated by singular vintage engines, any short-term loco exchange may be required for technical reasons. Contrarily, we promise to steam-haul all excursion trains. Any changes in our state of planning will be published on the present webpage.

All trains will serve food and beverages, most likely in a characteristic dining car inherited from Deutsche Reichsbahn of GDR.
Children up to 6 years of age in accompany with an adult and without a claim for an own seat are transported free of charge.

Friday, 2019-04-12:
Dresden – Berlin – Dresden, Express Passenger Train "ELBFLORENZ" (planned locomotive: 01 202 as the single engine, neither banking engine nor light engine for power supply to the carriages!!)
Price: 79.00 € per person
In Berlin you may visit the Railway Museum Berlin-Schöneweide. The entrance fee is included in the train ticket.

Saturday, 2019-04-13:
Morning (return by lunch time):
Dresden - Meißen

–

Nossen

–

Döbeln

–

Nossen

–

Meißen

–

Dresden (planned locomotives: 58 311 +

50 3648; the G12 will head the train to Döbeln and the class 50 will be at the rear end; this "sandwich" unchanged back to Nossen; the G12 will be turned around in Nossen and is intended to be the first engine back to Dresden

)
Price: 42.00 € per person or
Combined Ticket (train ticket + entrance to the festival area): 54.00 € per person
Afternoon (start after the morning train has come home):
Dresden – Kamenz

–

Bautzen – Dresden (planned locomotives:

50 3610 + 52 8079

)
Price: 42.00 € per person or
Combined Ticket (train ticket + entrance to the festival area): 54.00 € per person
Sunday, 2019-04-14:
Morning (return by lunch time):

Route change


Due to a total track blockage between Bautzen and Görlitz the train route and destination must be changed.


New route:


Dresden – Pirna – Bad Schandau –

Děčín hl.n.

(CZ) – Ústi n.L. (CZ) –

Děčín Východ

(CZ) – Bad Schandau – Pirna – Dresden, (planned locomotives: 03 2155 heading, and 118 552 as a banker to ease shunting in Czech Republic)
Price: 42.00 € per person or
Combined Ticket (train ticket + entrance to the festival area): 54.00 € per person
Afternoon (start after the morning train has come home):
Dresden

–

Wilthen

–

Ebersbach

–

Rumburk/CZ

–

Ebersbach

–

Wilthen

–

Dresden (

planned locomotives

: 35 1097 + 52 8079)
Price: 42.00 € per person or
Combined Ticket (train ticket + entrance to the festival area): 54.00 € per person
Please note:
All trains will depart from and arrive at Dresden Hauptbahnhof (main station). None of the trains can stop at the railway museum or festival area, respectively.

The Combined Ticket allows you to enter the festival area along Zwickauer Straße once, on a single day of the 11th Steam Engine Festival.

Any special trains will be operated only upon receiption of sufficient pre-bookings, so that the break-even point of cost and revenue is passed. But we are pretty sure that none of the train offers would sell less - but you can never be sure in advance. Thus, please do not hesitate too long to book your tickets.
Ticket pre-sale / Webshop
The webshop is closed now. We want to garantee ticket's arrival before our festival starts.
We also closed our ticket hotline now. Email requests cannot be answered anymore. Thanks for understanding!

Partners to the 11th Steam Engine Festival